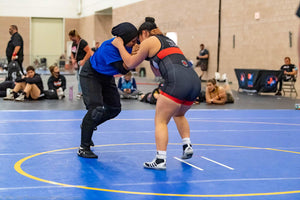 Latifah's Quest
Wrestling is an exciting, engaging sport that captivates audiences, but it has also been known to turn away participants due to its strict dress code: the singlet.
For Latifah McBryde, this rule is the only thing stopping her from competing in the Pan-Am Championships. "Earlier this month, Latifah competed at the USMC Women's National and World Team Trials and won the right to represent the United States at the Pan-Am Championships in Mexico in July 2022. However, shortly after qualifying, Latifah was told that she could not adhere to her faith and wrestle at the Pan-Ams," states Latifah's petition on change.org. 
The UWW demands Latifah wear the singlet, or else forfeit her position on Team USA. However, wearing modest clothing for wrestling should be acceptable for several reasons. Not only does it help some women feel comfortable competing in front of an audience, it can fulfill religious requirements for athletes like Latifah.
Furthermore, the hijab, which United World Wrestling (UWW) will not allow Latifah to wear in competition, neatly contains her hair. It seems like a perfectly practical piece of athletic clothing for grappling, especially for someone with long hair. When I train Brazilian Jiu-Jitsu (BJJ), I often opt for a single, simple braid, which occasionally gets stepped on or whipped in someone's face; these are problems a hijabi almost certainly wouldn't have to deal with. A hijab is arguably even more practical than the current ruleset allows, so it should be permitted in competition. Even the International Brazilian Jiu-Jitsu Federation permits the hijab, and BJJ is very similar to wrestling. 
Most importantly, if we do not allow hijabi women to compete because of this clothing restriction, we deprive the world of wrestling of so much remarkable talent from the Muslim community. Latifah is one of Alpha Raptor's first sponsored athletes, because I have had the pleasure of training with her and seeing in real life the making of this champion. Latifah is all hard work, grit, early mornings and two-a-day's, three-a-day's…she would drill, roll, drill some more, go lift, go do roadwork, go do homework, and (almost) never complain. Latifah helped me prepare for MMA fights—she was submitting me when she was 13, 14 years old, back when I was in fighting shape to boot. Latifah will not disappoint should she be allowed to represent Team USA at the Pan Ams. 
I urge
United World Wrestling to allow this absolutely phenomenal wrestler to adhere to her religion and be able to compete. Please consider making an exception for her, and opening the door for other hijabi women to compete in modest athletic wear. 
---