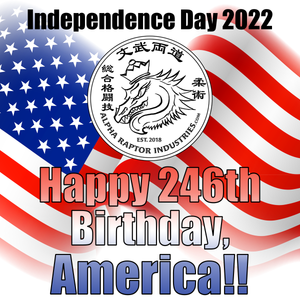 Summer 2022 Updates
7/2/2022 - Happy Independence Day Weekend, Alpha Raptor fans! I hope you are enjoying your summer and training lots of Brazilian Jiu-JItsu, whether it's in the gym or at the beach, at home or on the road! I've got some cool stuff you can take with you, and this weekend I'm launching a massive site-wide sale of 20% off EVERYTHING!! The sale ends July 5 at 11:59PM PST, so you'll have some time to shop in the aftermath of this weekend's festivities. Furthermore, I am launching a new feature from here on out: FREE SHIPPING for all orders over $50 to anywhere in the U.S.A. with discount code FreeShipping at checkout! 
BOOM!~ We're celebrating the 246th birthday of the U.S.A. by fighting inflation!! Alpha Raptor is a small business and we know and love our customers. It's not much, but we haven't raised our prices since 2020 and we hope the Free Shipping helps!! 
We won't have a deal this sweet again until Christmas! It's utterly ridiculous -- you can get $40 off the Hierarchy of Positions Canvas Print with this deal, I've got posters for $7.99, even our Rico Raccoon pre-order is 20% off...!! 
Product Updates: 
Rico Raccoon, our very first Budo Buddy, should be arriving sometime this month. Budo Buddies are a line of martial arts plushies that I am creating!! I am designing them for maximum cuteness and playtime fun. You can pre-order Rico Raccoon now! Next up will be Lucky the Cat, so stay tuned for her pre-order!
Generation 2 of the Graphic Notebooks are in progress. I am experimenting with the layout and design and making tweaks in order to create the best BJJ note-taking tool possible!! Feel free to drop us a line if you have any thoughts. Some of our best ideas come from fans like you! 
Our epic Hierarchy of Positions canvas print is getting a lot of positive attention!! Based on customer feedback, I am going to be releasing a few 18"x 20" wood-frame Canvas Prints in solo positions like De La Riva and Knee on Belly. 
Finally, of course I am busy designing a fantastic new witchy Rash Guard for Halloween this year for Grappling Getaways!! I will be headed to Salem, MA for our spookiest camp yet this October 7-10! Alpha Raptor will be hosting a fun booth during the camp, and selling Cuddly Cryptids alongside our usual BJJ wares!! 
---